Langley Environmental Partners Society
As a leading environmental organization in the Fraser Valley for over twenty two years, LEPS actively partners with local environmental stewardship groups to engage the public in a variety of initiatives that contribute to a healthy community. Working towards enacting our mission of "protecting and restoring the environment through education, cooperation and action" and fostering a balanced approach to sustainable living.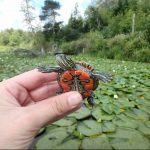 LEPS actively engages with local environmental stewardship initiatives that contribute to practical and cooperative solutions to environmental issues in Langley and beyond, through conserving and restoring habitats, mapping ecosystems, implementing sustainable agriculture, monitoring and protecting wildlife, and raising public awareness.
The aim of LEPS' education program is to involve the community in stewardship actions that raise awareness of the natural environment. We are achieving this goal through each of our education initiatives.
At LEPS we love sharing our knowledge and encouraging others to also live a more sustainable lifestyle. We work with energetic community volunteers to engage the public through a number of programs
The WaterWise program is an initiative of the Township of Langley's Water Resource Management Strategy. It includes a public outreach and educational program delivered annually throughout the Township with the help of Langley Environmental Partners Society (LEPS). Since 2002, the WaterWise program has visited communities and neighbourhoods informing residents about the importance of local groundwater resources, and providing practical ways to conserve and protect our supply.
In addition to our online classroom, we also offer an option to take part in a live classroom. It takes place in our vast campus located in Westfield, London. Here you'll be able to use the most up-to-date facilities and computer equipment.