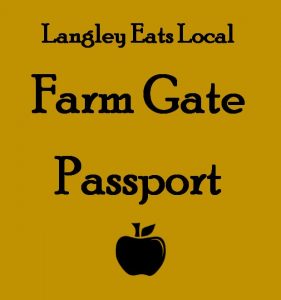 Eating locally helps us, as Langley residents, reconnect with our locally grown and raised food and rediscover Langley as the agricultural bounty that we sometimes forget.
Langley Township and City are very lucky to encompass our popular farm gate stores, where you can purchase berries, meats, fish, cheese, locally sourced organic breads, and even wine, beer and cider!
This is the inaugural year of the Farm Gate Passport, where if you visit 5 of the 10 businesses we have selected this year and get stamps for your passport you can be entered to win a prize basket stuffed to the brim with amazing local fare.
Passports will be available the week of the Langley Eats Local Food Challenge (Aug. 7 to 14) and are due on Friday, Aug. 16. Passports can be picked up at the LEPS office or any one of our participating farm gate stores (BUT… If you want to get started early since Laurica Farm is only open on weekends they are available there on Saturday!).
Completed passports can be dropped off at any one of our participants, at the Langley Community Farmers Market during Langley Eats Local (Aug. 14, from 12 to 6pm), or the LEPS office (#201-4839 221 St).
Farm gate stores participating in 2019: