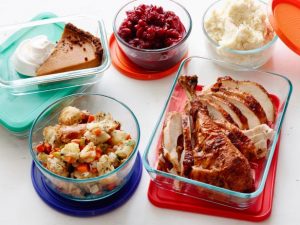 Food waste is a big concern in Canada, after all, the average Canadian wastes approximately 170 kilograms of food per year. Food waste happens at all points along the food chain, including at the consumer level.  The holidays can be especially difficult as we enjoy copious amounts of delicious foods. Leftovers are great the day following a meal but tend to become less and less appealing as the days go on; but, they don't have to be! There are numerous ways to ensure you are not wasting any food this holiday season and, you might even have fun trying new recipes or food preservation techniques. The fact is, utilizing your holiday leftovers can help save you money, reduce the amount of food ending up in landfills and lessen the impact that "waste" has on our planet.
Here are some ways you can ensure your leftovers don't end up in the trash:
Do your best to plan accordingly
Take the time to plan out your meals and only buy the amount you will need. You will likely still have leftovers but not an overwhelming amount that you'll have to find uses for.
This website, savethefood.com/guestimator/calculator, makes it easy!
Having guests at your house?
Have them bring their own container with them to bring leftovers home for themselves. Sharing food is fun!
Keep the scraps!
Use your meat carcass to make soup broth. If you don't have time over the holidays, you can freeze it and do it at a later date. The same goes for vegetable scraps – they make a perfect vegetable broth!
www.thriftygoodlife.com/thriftygoodlife/2013/04/22/freezer-scrap-soup-stock
Try new recipes
Come on, get out of your kitchen comfort zone and make a creamy potato soup or some crispy potato patties with all of those mashed potato leftovers. Have a dehydrator? Leftover cranberry sauce is perfect for a cranberry fruit leather!
This website, www.stopfoodwaste.org/, has tons of interesting recipes for leftovers…some even holiday specific!
Ready to go meals
Divide leftovers equally to create readily prepared meals in Tupperware for easy grab and go the next day!
Too many leftovers, so little fridge space
Freeze some of those readily prepared meals for dinners at a later date.
Write on your leftovers
Label leftovers "eat me first" to make sure your household makes it through the leftover food before moving onto other items in the fridge.
Running out of ideas?
Use www.myfridgefood.com – easily select what ingredients you have in your fridge and this website will generate a variety of recipes for you!
Last Resort
COMPOST. Some items we just don't get to. Composting your food items that just didn't make the cut is a perfect way to ensure food stays out of our landfills.
By:  Emily Lorenz
Source: CEC. 2017. Characterization and Management of Food Loss and Waste in North America. Montreal, Canada: Commission for Environmental Cooperation. 48 pp
Image credit: www.foodnetwork.com/holidays-and-parties/packages/holidays/holiday-central-how-tos/healthy-tips-using-up-holiday-leftovers