LEPS, in partnership with the Township of Langley, is pleased to present the new Garden Smart program! Effective April 1, 2022, Garden Smart provides personalized lawn and garden advice and support to encourage Township of Langley residents to practice environmentally sound lawn and garden care, reducing the use of cosmetic pesticides and chemical fertilizers for the for the benefit of salmon habitat, wildlife and pollinators in our community, and for the protection of our local water quality.
Every Wednesday afternoon, residents are invited to join an interactive session at the Derek Doubleday Arboretum. Each week, a new topic will be discussed, and then put into practice as participants engage in the maintenance of the Langley Learning Farm and Langley Demonstration Garden. Topics include mulching, efficient irrigation and low water vegetable gardening, tree and shrub pruning, lawn care and alternative, and more! This is a drop in event, for more details call 604.546.0337 or email [email protected]. 
For those who may not be able to participate in person, a new virtual Garden Coach service will provide advice, tips and tricks to address all your garden problems. Got weeds? Chafer Beetle? Pests eating your plants? Simply email [email protected] and a Master Gardener will reach back to recommend a solution to your garden woes. The service even includes video calls!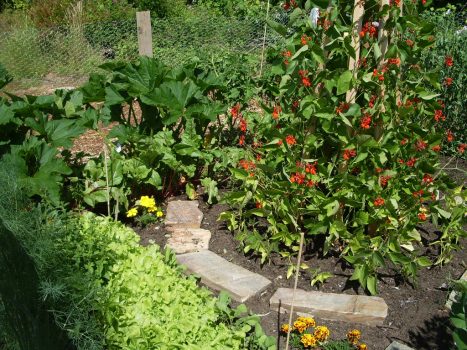 Healthy Soil
Feeding your soil is a very important step because out of healthy soil grows healthy plants. One of the most balanced fertilizers you can use is the compost from your backyard compost bin or worm bin. If you need more compost than your bin can provide, visit the manure link website where gardeners are able to connect with farmers.
Healthy Lawns
Many "Weed & Feed" products contain the active ingredient 2,4-D. This chemical is a selective herbicide, killing broad leaf weeds. 2,4-D can have many negative effects on the human body including effects on hormones, the immune system, male reproduction, and birth defects in infants. In the environment, 2,4-D is extremely toxic to fish. The solution? Try grasscycling and spread a layer of compost over your lawn as fertilizer and encourage help your lawn to out-compete the weeds. Over-seeding with a proper lawn seed mix is important. If your lawn is shaded in some areas, consider a seed mix with shade tolerant grasses such as Academy perennial rye and Libano chewing fescue.
Healthy Bugs
Not all bugs are bad. A single adult ladybird beetle (ladybug) will eat thousands of aphids during its lifetime and ladybird beetles can produce up to 6 generations per year! Consider planting asters, Queen Anne's lace, and sweet alyssum to attract beneficial insects. If you still have trouble with pests, try a natural alternative for pest control.
Resources
Additional resources produced by LEPS and the Township of Langley are available at community centres, the LEPS office, and online!