[custom_headline type="left" level="h1″ looks_like="h1″]School-Based Environmental Clubs[/custom_headline][slider animation="slide" slide_time="5000″ slide_speed="650″ prev_next_nav="true" no_container="true"][slide]
[/slide][slide]
[/slide][/slider][text_output][blockquote cite="Benjamin Franklin, (1706-1790), Poor Richard's Almanac" type="left, center, right"]"When the well's dry, we know the worth of water."[/blockquote]
LEPS currently works with two Aldergrove environmental clubs: EcoTigers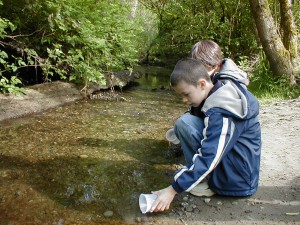 at Shortreed Elementary and Environmental Scientific Investigators (ESI) at Parkside Centennial Elementary.
The environmental clubs are a partnership program with LEPS, the Bertrand Creek Enhancement Society and the participating elementary schools. Both programs are a noon hour club that meets once or twice monthly and are attended by up to thirty students each. The goals of the environmental clubs are to engage the students in hands-on activities which increase environmental awareness and encourage local stewardship.
Special guests such as Monika's Wildlife Shelter (owl education), Critter Care (rehabilitation of wildlife) and the Department of Fisheries and Oceans have attended EcoTiger or ESI meetings. Both groups also participate in building recycled wood bird houses/feeders encouraging native wildlife to visit the school area, planting native plants and various other environmental education activities.
If your school would like assistance in starting an Environmental Club contact [email protected].
Funders Include: Shell, Coast Capital Savings & TD Friends of the Environment Fund.[/text_output]